Pequeños Grants de OMS para Zika en América Latina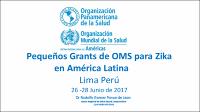 xmlui.dri2xhtml.METS-1.0.item-files-viewOpen
xmlui.dri2xhtml.METS-1.0.item-date
2017-06-26
xmlui.dri2xhtml.METS-1.0.item-author
Gómez Ponce de León, Rodolfo
xmlui.dri2xhtml.METS-1.0.item-abstract
Este programa es una iniciativa conjunta del Programa Especial de Investigaciones y Enseñanzas sobre Enfermedades Tropicales (TDR), que patrocinan el UNICEF, el PNUD, el Banco Mundial y la OMS; el Programa Especial PNUD/UNFPA/UNICEF/OMS/Banco Mundial de Investigaciones, Desarrollo y Formación de Investigadores sobre Reproducción Humana (HRP), y la Organización Panamericana de la Salud (OPS), que es la Oficina Regional de la Organización Mundial de la Salud (OMS) para las Américas. El Programa de Investigaciones en enfermedades transmisibles del Departamento de Enfermedades Transmisibles y Análisis de Salud y el Centro Latinoamericano de Perinotalogía, Salud de la Mujer y Reproductiva que se encuentra en Uruguay indica que son importantes colaboradores técnicos de la OPS/OMS en este programa
xmlui.mirage2.itemSummaryView.Collections
Related items
Showing items related by title, author, creator and subject.
Reveiz, Ludovic

(

OPS

,

2017-06-26

)

Expone los siguientes temas: Agendas de investigación sobre Zika – Evaluación de la implementación de la agenda: identificación de brechas – Plataforma de protocolos sobre ZIKV -- Características de estudios incluidos en ...

Ospina, Martha Lucía

(

Instituto Nacional de Salud

,

2017-06-26

)

Muestra en gráficos los avances del Zika en Colombia. Mapa de la distribución mundial de Aedes aegypti – Situación de riesgo de endemicidad de aedes aegypti en Colombia – Notificación de casos Dengue, Chikungunya y Zika, ...

Dides, Claudia

;

Fernández, Constanza

(

Corporación Miles; Cartholics for Choice and IPPF

,

2017-04-17

)

El informe que presentamos a continuación hace parte del Observatorio de Salud Sexual, Reproductiva y Derechos Humanos de la Corporación Miles, cuyo propósito es monitorear y dar seguimiento al estado de situación de la ...