Los avances en el conocimiento científico del Zika en términos de comportamiento del virus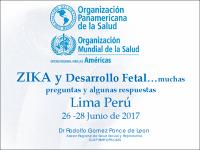 xmlui.dri2xhtml.METS-1.0.item-files-viewOpen
xmlui.dri2xhtml.METS-1.0.item-date
2017-06-26
xmlui.dri2xhtml.METS-1.0.item-author
Gómes Ponce de León, Rodolfo
xmlui.dri2xhtml.METS-1.0.item-abstract
Zika y Desarrollo Fetal, preguntas y algunas respuestas. Sintomatología en la infección por virus Zika. Definición de microcefalia. Síndrome congénito por Zika. WHO interim guidance on pregnancy management in the context of Zikavirus infection. Consideraciones provisionales para la atención de mujeres gestantes en escenarios con alta circulación del virus Zika: documento destinado a profesionales de salud. Prevención para la transmisión sexual del virus de Zika. Modos de transmisión sexual. Compromisos de la Región en el acceso a métodos anticonceptivos modernos ante la alerta del virus Zika. Zika en Brasil.
xmlui.mirage2.itemSummaryView.Collections
Related items
Showing items related by title, author, creator and subject.
Ardila, Mariana

(

Women's Worldwide

,

2017-06

)

Muestra la interrogante ¿Qué derechos, especialmente qué derechos sexuales y reproductivos, se ven afectados o son relevantes en la crisis del virus del Zika?

Gómez Ponce de León, Rodolfo

(

OPS

,

2017-06-26

)

Contiene gráficos de Maternal Mortality ratio (per 1,000 lb) and the highest20%/lowest 20% income ratio, estimated 2006. Diversidad étnica y exclusión social: el caso de Panamá. Estimates of contraceptive prevalence (any ...

Chávez, Susana

(

CLACAI

,

2017-06

)

Actividad de CLACAI en el marco del proyecto "Promoción de los Derechos Sexuales y Reproductivos en Tiempos del Zika", apoyado por la Fundación Packard. (CLACAI, IPPF/RHO, Women's Link Worldwide, Ipas y el Centro de Derechos ...