Declaración de la conferencia Latinoamericana: Prevención y atención del aborto inseguro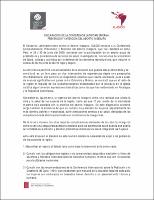 xmlui.dri2xhtml.METS-1.0.item-files-viewOpen
xmlui.dri2xhtml.METS-1.0.item-date
2009-06-30
xmlui.dri2xhtml.METS-1.0.item-author
Consorcio Latinoamericano contra el Aborto Inseguro (CLACAI)
xmlui.dri2xhtml.METS-1.0.item-abstract
Declaración de la Conferencia Latinoamericana: Prevención y Atención del Aborto Inseguro, que fue realizada en Lima, Perú, el 29 y 30 de junio del 2009, contando con la participación de un amplio grupo de prestadores y prestadoras de servicios de salud, investigadores, funcionarios de Ministerios de Salud, juristas y activistas por la defensa de los derechos reproductivos, que incluyen el acceso de las mujeres al aborto legal y seguro.
xmlui.mirage2.itemSummaryView.Collections
Related items
Showing items related by title, author, creator and subject.
Darney, Blair G.

;

Fuentes-Rivera, Evelyn

;

Polo, Gerardo

;

Saavedra-Avendaño, Biani

;

Alexander, Lily T.

;

Schiavon, Raffaela

(

International Journal of Gynecology & Obstetrics

,

2019

)

El objetivo del presente estudio fue describir la utilización de los servicios de salud y los casos fatales producto de los eventos abortivos a través del sistema de salud mexicano. El acceso al aborto inducido sigue siendo ...

Ramón, Michel Agustina

;

Ariza Navarrete, Sonia

;

Chávez, Susana

(

Frontiers in Global Women's Health, section Contraception and Family Planning

,

2022-08-01

)

El rápido aumento de la demanda de servicios de salud como resultado del brote de COVID-19 ha creado importantes desafíos para los sistemas de salud. Las autoridades sanitarias nacionales e internacionales han declarado ...

Vera, Claudio

;

Carvajal, Jorge

(

Rev. chil. obstet. ginecol.

,

2013

)

Antecedentes: El aborto fue legalizado en Nepal el año 2002, luego de esfuerzos de promoción de la salud resaltados por una alta mortalidad materna proveniente de aborto inseguro. Buscamos evaluar si la legalización conlleva ...