Fortalecimiento y habilidades de la Red Jurídica de CLACAI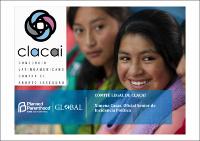 xmlui.dri2xhtml.METS-1.0.item-files-viewOpen
xmlui.dri2xhtml.METS-1.0.item-date
2014
xmlui.dri2xhtml.METS-1.0.item-author
Casas
xmlui.dri2xhtml.METS-1.0.item-abstract
Durante esta presentación se mencionaran los objetivos del Comité Legal como iniciativa de CLACAI y el Seminario de Causal Violación como punto de partida de este Comité. Se hará un recuento de las tendencias actuales en temas legales en términos del aborto en América Latina, como por ejemplo el tema de la causal violación,con el objetivo de visibilizar las oportunidades de incidencia que se están generando en la región y como estas pueden ser utilizadas como plataforma del Comité Legal para establecer puntos comunes de esas posibles oportunidades en la región en donde el Comité Legal pueda tener un apoyo en estos trabajos nacionales de incidencia legal.
xmlui.mirage2.itemSummaryView.Collections
Related items
Showing items related by title, author, creator and subject.
Irrazábal, María Gabriela

(

Rev. Estud. Fem

,

2015

)

En este artículo trabajaremos sobre la presencia de agentes religiosos expertos en bioética en comités de hospitales públicos y su intervención en casos de solicitud de acceso al aborto legal. En primer lugar realizaremos ...

Evans, Dabney P.

;

Narasimhan, Subasri

(

Sexual and Reproductive Health Matters

,

2020

)

Los proyectos de ley relativos a los latidos cardíacos fetales han pasado a ser la medida legislativa antiaborto preferida en la guerra de EE. UU. contra la salud y los derechos sexuales y reproductivos. En 2019, el Proyecto ...

Comité para la Eliminación de la Discriminación contra la Mujer

(

Comité CEDAW

,

2011

)

En el Perú, el único aborto despenalizado es el terapéutico, y el Estado tiene pendiente adoptar medidas para evitar que se cometan violaciones semejantes a las de KL en el futuro, tal como lo ha establecido el Comité de ...