Resolución 146/2012. Obligatoriedad de brindar acceso a los servicios de salud de calidad y confidencialidad del secreto médico en la atención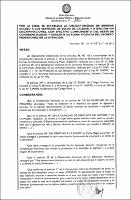 xmlui.dri2xhtml.METS-1.0.item-files-viewOpen
xmlui.dri2xhtml.METS-1.0.item-date
2012
xmlui.dri2xhtml.METS-1.0.item-author
Paraguay. Poder ejecutivo. Ministerio de Salud y Bienestar Social
xmlui.dri2xhtml.METS-1.0.item-abstract
La presente resolución garantiza el acceso a servicios de salud de calidad y atención sin discriminaciones, con efectivo cumplimiento de confidencialidad y garantía de plena vigencia del secreto profesional en la atención en la República del Paraguay. Como anexo contiene las Normas de atención postaborto.
xmlui.mirage2.itemSummaryView.Collections
Related items
Showing items related by title, author, creator and subject.
Paraguay. Ministerio de Salud y Bienestar Social

(

2012

)

La muerte de las mujeres por causas evitables es una de las más dolorosas e injustas manifestaciones de una sociedad con iniquidades sociales y de género. Las causas de la mortalidad materna en su gran mayoría son ...

Karstanje, Maite

;

Ferrari, Nadia

;

Verón, Zoe

(

ELA-Equipo Latinoamericano de Justicia y Género

,

2020-10

)

La pandemia y la consecuente crisis sanitaria, económica y social han tenido impactos directos e indirectos en la sociedad argentina en general y en grupos en situación de vulnerabilidad en particular, como las mujeres, ...

Ramón, Michel Agustina

;

Ariza Navarrete, Sonia

;

Chávez, Susana

(

Frontiers in Global Women's Health, section Contraception and Family Planning

,

2022-08-01

)

El rápido aumento de la demanda de servicios de salud como resultado del brote de COVID-19 ha creado importantes desafíos para los sistemas de salud. Las autoridades sanitarias nacionales e internacionales han declarado ...